Features & Models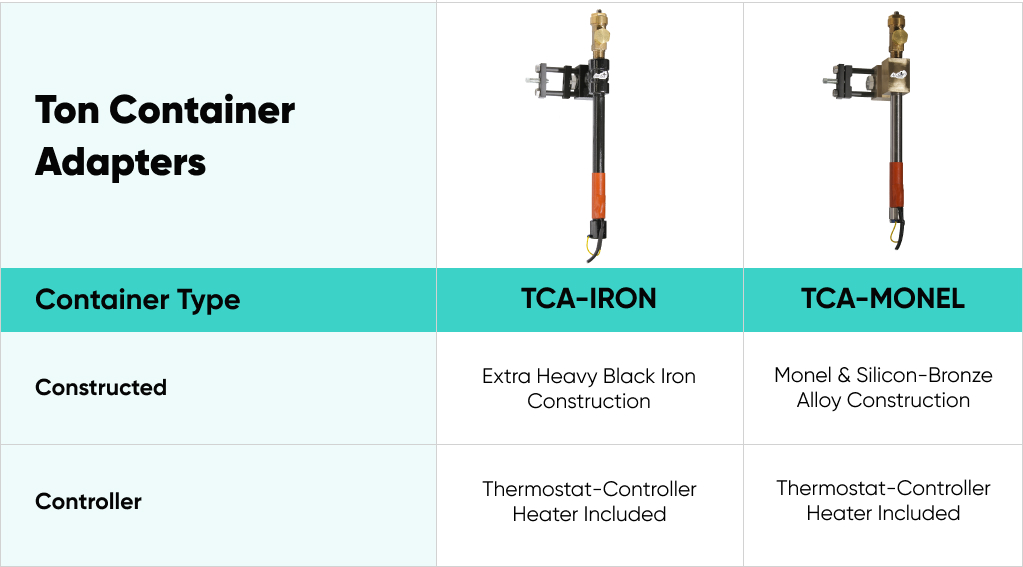 Archer Instruments manufactures two versions of a Universal Ton Container Adapter for use in gas chlorination systems. These products are used to adapt any standard cylinder-mounted gas chlorinator (vacuum regulator) for use on a standard one-ton chlorine container.
Upright cylinders provide a vertically oriented chlorine valve, upon which standard vacuum regulators can be directly mounted. Ton containers are equipped with chlorine valves protruding from one end of the container in a horizontal orientation. Additionally, ton container chlorine valves have a suction tube connected on the inside of the container, which curves toward the inside wall of the container. Two such valves are attached to ton containers and it is necessary when preparing a container for use to rotate the container so that the two valves are aligned one above the other. In this orientation, the top valve's internal suction tube curves to the inside top wall of the container while the bottom valve's internal suction tube curves to the inside bottom of the container. This allows the top valve to draw chlorine vapors from the inside of the container, while the bottom valve will draw liquid chlorine. Large applications requiring very high rates of chlorine feed may be designed for the bottom valve to be used to direct liquid chlorine to a separate device known as an evaporator (or sometimes called a vaporizer) in order to evaporate large rates of chlorine quickly. However, most ton container applications involve the use of the top valve, which is intended to draw the chlorine gas from the inside of the container. As the gas is withdrawn, the container itself acts as a heat exchanger, absorbing heat from the atmosphere to evaporate the remaining liquid inside. Because the internal suction tube that is connected to the chlorine valve will always contain a slug of liquid chlorine when it is first opened, ton container adapters are equipped with a liquid trap (this is commonly called a "drip leg") and heater. This drip leg will hold and evaporate this initial slug of liquid chlorine, preventing the liquid from entering the gas chlorination system. Universal Ton Container Adapters are designed with a vertically oriented chlorine valve, which acts as the outlet of the adapter. In this way, the Universal Ton Container Adapter will allow for any standard vacuum regulator that is intended for use on upright cylinders to be used on a ton container.
TCA-IRON – This Universal Ton Container Adapter is manufactured using industry-standard materials of extra heavy seamless pipe and pipe fittings for the drip leg assembly. These adapters are competitively priced but it is expected that the inside of this adapter will, over time require occasional disassembly and cleaning.
TCA-MONEL – This adapter is constructed of silicon-bronze alloys and pipe fittings made of Monel. These choice materials are highly resistant to chlorine and will ensure a cleaner functionality over long periods of use.
All Archer Instruments ton container adapters are equipped with a full-containment, powder-coated yoke assembly as recommended by The Chlorine Institute. Both adapters are also supplied with a pre-curled drip leg heater & a six-foot (2 meter) long power chord. Either adapter can be supplied for "left-hand" orientation upon request.