Features & Models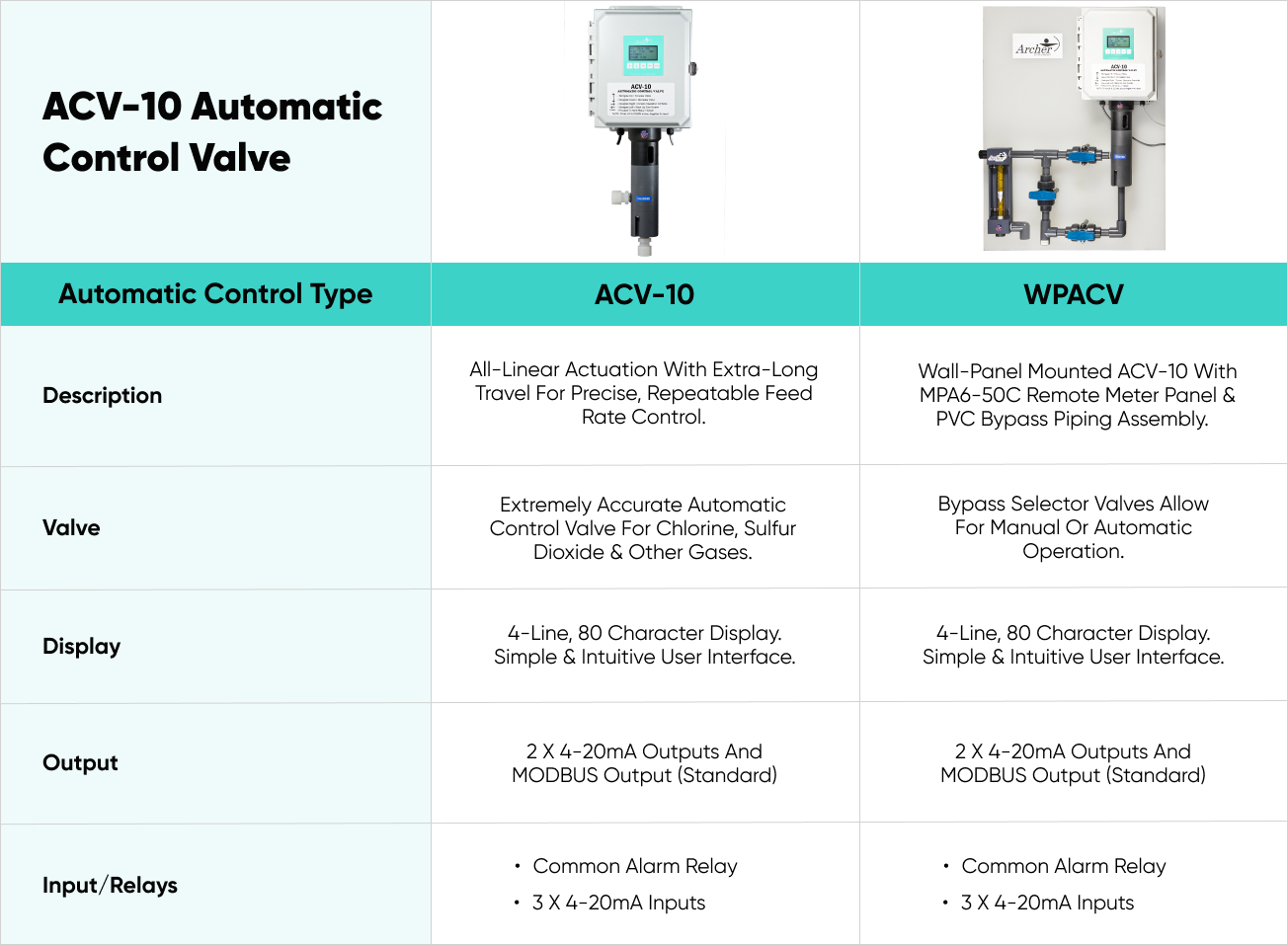 The Archer Instruments ACV10 Automatic Control Valve is a microprocessor based motorized valve, designed to continually and automatically adjust the feed rate in vacuum-operated chemical feed systems. Most commonly used in systems feeding chlorine gas, sulfur dioxide gas, or ammonia gas, the ACV10 is also capable of operating in vacuum liquid feed systems. Gas chlorination systems are the most common application for the ACV10.
The ACV-10 Automatic Control Valve is provided standard with an extensive range of user-selectable and user-adjustable capabilities. By accepting input signals from various instruments of PLC / SCADA systems, the ACV10 is designed to automatically adjust the chemical feed rate in response to changes in process conditions such as water flow rates, water quality, etc. Having three analog 4-20mA inputs, two analog 4-20mA outputs, four digital inputs, MODBUS output, and a multi-purpose double throw relay, the ACV10 can perform proportional (flow pacing), residual set-point, compound loop, or step-feed automatic control modes. The valve can also be operated in manual control mode, with feed rate adjustments achieved directly via the pushbutton user interface. Through a variety of software settings, the available input & output communications, the ACV10 also offers the user the ability to remotely switch from automatic to manual control… and to remotely adjust the valve manually via 4-20mA communication. The microprocessor-based software program includes a long list of user-adjustable settings, which allow the user to optimize the performance of the automated chemical feed rate control in any of the available automatic control modes.
The ACV10 Automatic Control Valve is designed so as to combine a NEMA4X rated electronic controller and the motorized rate control valve into a single compact product. The mechanical valve portion of the ACV10 is designed for reliable operation of long periods of continual use, and for infrequent, simple, and inexpensive maintenance. The user interface consists of a large four-line by 20-character backlit alphanumeric display (eighty total characters) and a five pushbutton control interface consisting of four navigation & adjustment pushbuttons as well as an "enter" pushbutton. This combination of a large display showing full English words and the intuitive pushbutton interface combine to make the ACV10 extremely simple to program, configure and operate.
The ACV10 Automatic Control Valve is available for gaseous feed rates ranging from 10 PPD (200 g/hr) up to 2,000 PPD (40 kg/hr) and for liquid feed rates ranging from only a few gallons per hour up to several gallons per minute, depending on the liquid chemical being fed.
The ACV10 Automatic Control Valve makes use of a precision linear stepper motor, which achieves positioning in travel increments of 0.000625". Feed rate is controlled by a direct linear adjustment of a captured v-notch valve stem, with notches machined specifically for each offered feed rate range. This allows for maximum use of the available travel of the linear stepper motor. Valve stems are machined with v-notches in excess of 1.7" in length. There is no rotating motion in the ACV10 rate control valve. The v-notch valve stem is adjusted through linear motion only. This type of linear motion provides a level of precision and repeatability that cannot be matched in rotating valves.