Features & Models
CHLORINE RESIDUAL
ANALYZER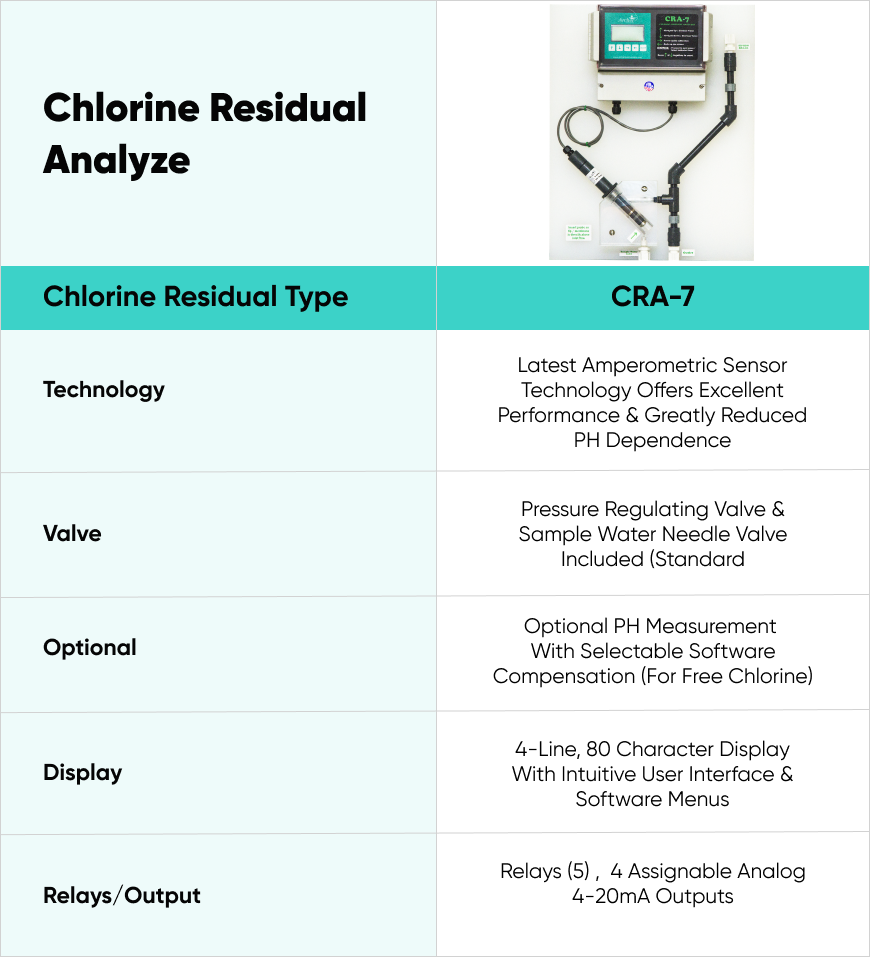 The CRA-7 Chlorine Residual Analyzer is an amperometric "probe-style" chlorine analyzer. Capable of accommodating one or two chlorine sensors with each controller, the CRA-7 is available for the measurement of either Free or Total Chlorine. Additionally, the CRA-7 is offered with an optional pH sensor configuration, for the continuous monitoring of pH levels and (if desired) mathematical compensation for the effects of fluctuating pH levels on Free Chlorine measurement. The Free Chlorine sensor used on the CRA7 is specifically engineered to operate with reduced pH dependence. With this sensor, modest changes in the sample water pH value will have little impact on the Free Chlorine measurement. In most applications, the CRA7 Free Chlorine sensor renders it unnecessary to be concerned about the dissociation of Free Chlorine molecules.
The CRA-7 Chlorine Residual Analyzer can be powered by either 120 VAC, 240 VAC of 24 VDC and is provided standard with an extensive range of capabilities and adjustable settings. Having two independent input channels, the CRA7 electronic controller is capable of monitoring either one or two chlorine sensors, as well as the optional input for continuous monitoring of sample water pH values. The CRA7 is equipped with four independent and assignable 4-20mA analog outputs, a MODBUS output, and a total of five multi-purpose double-throw relays, the CRA7 offers a wide range of communications capabilities. The microprocessor-based software program includes a long list of user-adjustable settings, which allow the user to specify alarm trip points for low chlorine, high chlorine, low pH and high pH levels, with adjustable alarm delays for each. Four of the five relays are independently assignable and can be assigned to any configured alarm condition. The fifth relay is a common alarm relay and will trip on any programmed alarm condition. All of these features are included standard with the CRA7 Chlorine Residual Analyzer, with the exception of the pH input channel and pH sensor.
The CRA-7 Chlorine Residual Analyzer is equipped with a user interface consisting of a large four-line by twenty-character backlit alphanumeric display (eighty total characters) and a five pushbutton control interface consisting of four navigation & adjustment pushbuttons as well as an "enter" pushbutton. This combination of a large display showing full English words and the intuitive pushbutton interface make the CRA7 extremely simple to program, configure and operate.
The design of the CRA7 Chlorine Residual Analyzer consists of a NEMA4X rated electronic controller, sample water flow cell, chlorine sensor, and sample water discharge plumbing that incorporates an integral siphon break to prevent a discharge siphon effect from creating a vacuum condition in the flow cell. All components are pre-mounted on a compact, one-half-inch thick poly panel that is twenty inches by sixteen inches. This panel allows for easy wall-mounting of the CRA7. The design of the CRA7 flow cell ensures the sample water flows across the sensor at a forty-five-degree angle, thus eliminating the common problem of entrained air bubbles accumulating on the surface of the sensor membrane. Sample water tubing, tubing connectors, a pressure regulating valve, a needle valve, and a vent bug cap (for the siphon break) are all provided as standard accessories. Consistent sample water flow and pressure are critical for the accurate operation of amperometric sensors. The pressure regulating valve and needle valve are provided to ensure the sample water flow entering the flow cell remains steady during operation.